August 21, 2020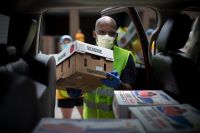 Every day since mid-May, a large cadre of folks across the state have been working together to deliver fresh fruits and vegetables, meat, and dairy products to those in need. It is part of the USDA Farmers to Families Food Box program that was put in place as part of the Families First Coronavirus Response Act.
Announced in mid-April by Secretary of Agriculture Sonny Perdue, the program is not only helping families in need, it's helping farmers. With more than $3 billion allocated to the nationwide program, entities in each state developed a plan for the purchase and distribution of fresh produce, dairy, and meat products from American producers.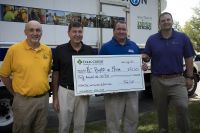 In the early days of the COVID-19 pandemic, when images of farmers dumping truckloads of fresh produce filled television screens while grocery store produce bins were empty in some areas, it pointed to both supply chain issues and markets closing down, in particular cruise ships and restaurants.
"For several of our farm partners, we became the only buyer for the first 90 days of the pandemic," says Courtney Tellefsen, owner of The Produce Box, a Raleigh-based business that connects consumers with local farmers by providing a statewide fresh produce and artisan food delivery service.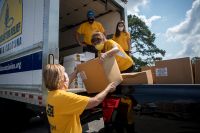 "It bailed us out," says Kirby Johnson of FLAVOR 1st, a grower, packer, shipper in Mills River.
Courtney and Kirby teamed up with Baptists on Mission, one of four entities in the state that secured a portion of the more than $4.5 million that North Carolina received from the program to buy food from farmers to deliver to families in need. Baptists on Mission, with coordinators in every county, deliver to 12,000 families each week; the food is sourced from around 150 farmers.
They, along with the Farm Credit Associations of North Carolina – AgCarolina, Cape Fear, Carolina – represent thousands of people who have been integral in some way of delivering hope to both the farm community and to families in need of food. Farm Credit purchased a refrigerated truck for Baptists on Mission to make perishable food deliveries. Along with funds raised by employees, Farm Credit has contributed more than $53,000 to the effort.
"The Farm Credit Associations of North Carolina's participation in the Farmers to Families Food Box Program not only serves to help local families in need, but also helps our local farmers to market their products. Partnerships like these give Farm Credit and its employees the opportunity to serve our rural communities during these uncertain economic times," says Evan Kleinhans, chief executive officer of Cape Fear Farm Credit.
"The truck has allowed us the flexibility to quickly and efficiently pack the truck and get it out to the families on its route . . . we can have it packed before the drivers arrive," says Courtney.
Kirby, a seventh-generation farmer, characterizes the Farmers to Families Food Box program and the help from Farm Credit as a blessing. "Not a lot of people realize it, but this program not only helps the people that need the food but it helps the heck out of us farmers," he says.
 It's such a great thing that government is helping," says Richard Brunson, executive director of Baptists on Mission. "This is a smart way to help farmers and to create a market and when you look at it from the isolated people who have lost jobs, it just matches. Farmers are such good people to work with and it's giving people what they have to have: food for the people who need it most."
# # #
By Leah Chester-Davis
Back to News