August 5, 2022
Delta Dawn Farms in Duplin County was originally started by a first-generation farmer five years ago, but has now evolved further than anyone could have foreseen. What started with AJ Searles has been expanded with the help of wife Krystle, into a large operation consisting of not just row crops, but pumpkins and beef cattle too. Krystle, who has farming in her roots, has taken her love to serve others and spearheaded the farm's pumpkin and beef cattle operations. Although AJ started Delta Dawn Farms five years ago, Krystle has jumped in to lead areas of interest to her, all while helping continue the success of the farm.
With Krystle focusing on operational efficiencies regarding the farm's beef cattle and pumpkins, they can prioritize serving customer wants and needs. For Krystle, getting involved on the farm was about fulfilling her love of constantly learning new things while also serving others and, in a way, creating art. Krystle explains, "The majority of my pumpkins are ornamental. Therefore, when I grow them, I am constantly growing different shapes, sizes, and colors; it's like art to me." This year, she planted twenty-four different varieties of pumpkins because she loves experimenting and the opportunity to better meet customer needs and wants.
For Krystle, beef cattle were less of an experiment. Raising her own meat is something she had done in the past. All the farm's beef is sold locally, along with the majority of the pumpkins. Some pumpkins find their way to the wholesale market.
As a young, beginning farmer, Krystle shared a lot of recommendations for other young, small, or beginning farmers who are looking to get involved or who just started in the agricultural business. "For me, it was creating a business plan. Do your research. What do your customers want and need? What do they already have? Have a plan of action so you aren't going into anything blind," said Krystle. Furthermore, she went in-depth explaining the usefulness of local resources, sharing, "It is so important to first, find a mentor. It doesn't have to be someone in your exact field, but someone who has a business that is alive and well. You'd be surprised to learn the amount of tips and tricks you can find out about simply by asking questions from those who've already done it!"
Farm Credit is honored to not just be a lender for Delta Dawn Farms, but also be a source of mentorship and support for the Owens family. Krystle continues to work with Farm Credit because of their dedication to their operation. Since Farm Credit is comprised of farmers and local neighbors, member needs and agricultural business are understood.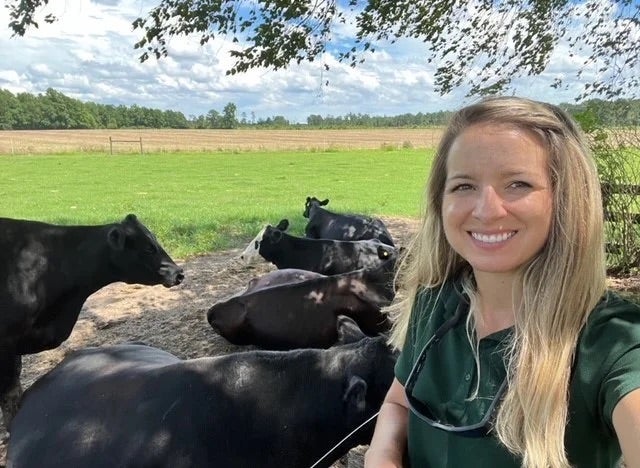 Back to News