March 4, 2021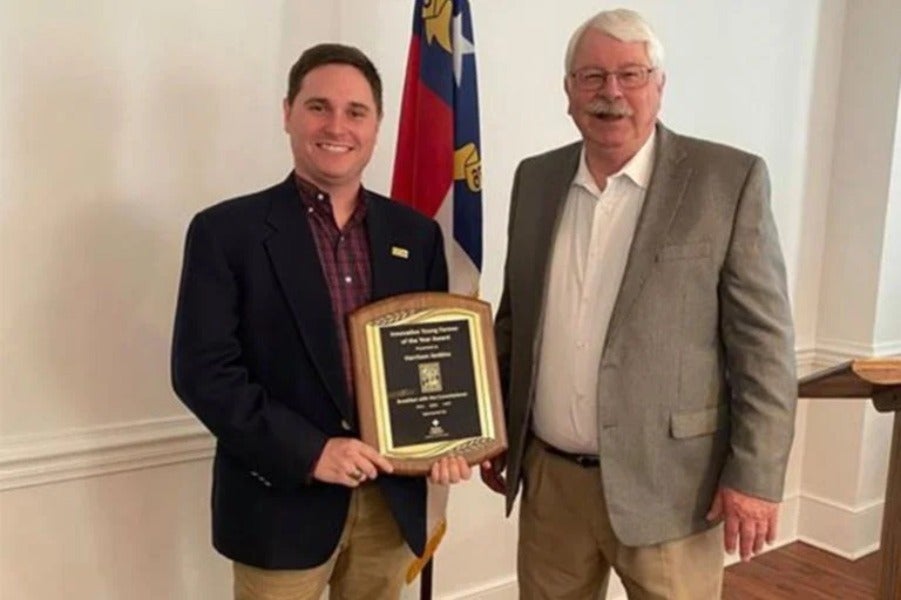 STATESVILLE, NC – The Farm Credit Associations of NC are pleased to once again partner with the Tobacco Farm Life Museum for their upcoming 2021 programming. The Tobacco Farm Life Museum will hold the 16th annual Breakfast with the Commissioner benefit with Commissioner of Agriculture Steve Troxler on, Friday, March 5th at 10am.  Event proceeds support the Museum's mission to preserve and present the history and heritage of the rural farming community though collection care, research, and public tours. This year's event will be presented virtually on the Tobacco Farm Life Museum's Facebook Page.  
The 2021 Excellence in Ag award, sponsored by Southern Bank, will be presented to Dr. Blake Brown.  Dr. Brown is the Hugh C. Kiger Professor of Agricultural and Resource Economics at North Carolina State University.
The 2021 Innovative Young Farmer of the Year award will be presented to Harrison Jenkins of Westward Farms in Statesville, NC.  Mr. Jenkins operates the family farm and works full-time at Statesville Highschool as their sole Agriculture Teacher.  This award is sponsored by Farm Credit Associations of North Carolina.  
Access to the program will be available on the Tobacco Farm Life Museum's Facebook page, our You Tube Channel "Sharing our Heritage", and on the event website at: https://www.tobaccofarmlifemuseum.org/breakfast-with-the-commissioner. 
The Farm Credit Associations of NC are AgCarolina Farm Credit, Cape Fear Farm Credit, and Carolina Farm Credit. They are farmer-owned financial cooperatives with headquarters in Raleigh, Fayetteville, and Statesville respectively. They are the leading provider of credit to farmers in North Carolina. The Associations have over $4.5 billion in loans and commitments outstanding to over 15,000 North Carolina farmers. Loans are made to finance land, homes, farm buildings, operating expenses, livestock and equipment, as well as other purposes. Appraisal services and leasing programs are also available through the Farm Credit Associations of NC.
Back to News